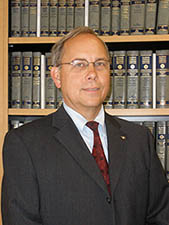 Michael J. Torchalski
Michael J. Torchalski, of Crystal Lake, concentrates his practice in commercial litigation; real estate tax appeal; condominium and homeowners' association; business and corporate law; estate planning, probate, and trust administration; real estate transactions and title insurance, and mechanics lien.
Michael Torchalski recently authored two chapters: Statutory Defenses of Mechanics Lien Claims and Attorneys' Fees and §17 of the Mechanics Lien Act (2019), published by Illinois Institute for Continuing Legal Education (2014). He previously co-authored: Owner and Third-Party Defenses Against Contractor and Subcontractor Mechanics Lien Claims, Illinois Institute for Continuing Legal Education (2010, 2007, 2004 Supplement, 2000). Mr. Torchalski also authored The Implied Covenant of Good Faith…As Applied to Illinois Banks, Illinois Banker, January 1994.
Mr. Torchalski received his J.D., with Honors, from IIT/Chicago-Kent College of Law, and his B.A. from University of Illinois at Champaign-Urbana. Mr. Torchalski served as a student law clerk for Judge Thomas R. McMillen of the United States District Court. Mr. Torchalski has been a member of the Knights of Columbus; the Kiwanis Club of Crystal Lake (former President), and the Northern Ireland Children's Project.
Serving McHenry County, Lake County, Kane County, and Northwest Suburban Cook County, Illinois.